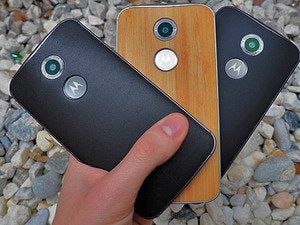 The Motorola Moto X 2014 is one of the best phones in Motorola's lineup.  It is above the Moto G and Moto E, and these were built as alternatives to competitor phones such as LG G3 and Samsung Galaxy S5. Those who are interested in a simple, stripped-back approach to software may love the Moto X, but it has been noted that there has been complaints of hardware problems.
The Moto X offers a sense of intuitiveness in day-to-day use with its collective workings of a series of clever hardware decisions and software additions. The Moto X's shape and size are appealing. The phone is sleek and slim with thin bezels and a pleasantly curved back, making it very easy to handle. The phone feels good in the palm with rounded edges and easy to carry around.
Like most other top level phones, Moto X has a low power coprocessor that lets the phone constantly monitor secondary sensors without using much battery. The Motorola MotoX has an AMOLED screen  and has a capacity of greater contrast than an LED screen. Also, the phone has a capacity to turn on the lock screen whenever it detects motion in front of the screen.  It also has features such as the appearance of little icons like envelopes for emails that pop up even when the phone is in the pre-locked state. But in case you have a concern over this, these notifications can be turned off.
As key features, this phone has an excellent performance with intuitive operation and beefy sounding speakers, but the battery doesn't match the rival companies and the camera is highly unpredictable and unreliable with an over –saturated screen.
This phone works on Android OS (KitKat) and it can be upgraded to v5.0 Lollipop. The phone is water resistant and it uses a nano –sim. The resolution is alright and the screen is protected by Corning Gorilla Glass 3. There is no memory card slot, but an internal memory of 16/32 GB, 2GB RAM/64GB .There is WIFI, Bluetooth, DLNA, hotspot and microUSB available. Features such as accelerometer, gyro, compass, barometer and temperature are present. The phone comes in standard colors of black and white, as well as customizable cases of varying colors or a wooden look.  It uses a non-removable Li-Lon 2300mAh battery. This is a fairly good phone to have your hands on.
To by the Motorola Moto X (2014) click HERE.